Hi! My name is Adrianne and I am one of the co-founders of Bodhi Surf + Yoga, and an avid surfer with over fifteen years of experience getting tossed around by the waves.
When chatting with guests, the topic of swimsuits comes up time and time again. The worst is when a person gets down to Bodhi Surf + Yoga only to realize that they have brought the wrong kind of swimwear.
I have written this blog to share some FAQs about surf bathing suits. It is mostly geared towards women, but there is also a section at the end for some commonly asked questions from men.
Without further ado, let's go over ideal surfing swimsuits for learning to surf in Costa Rica.
Table of contents
Why a functional surf bikini is so important when you're learning
Your brain will have a lot of information to take in when you're learning to surf. When you're serious about learning, functionality is much more important than looks.
I can personally attest to the fact that it is very annoying to have to be adjusting your bikini after every single movement that you make.
Moreover, when you're learning, you will fall. A lot. That's just a part of it. And when you fall, you don't want to add in the worry of flashing everyone to the mix.
Figuring out if your surf suit will work before you buy it
When you're in the safe confines of the dressing room, how you look in your bikini seems like the top priority. I've been there. You can practically see yourself catching those perfect green-blue waves and looking amazing. Living the dream.
I can't tell you how many times I've purchased a surfing swimsuit because it's soooo cute and I really want it, so I convince myself that it's also functional when it's just straight up not. The reality is, when you're learning, you spend a lot of time in the white water — aka the "washing machine".
Let's face it, that stringy/blingy surf bikini probably won't make it through the washing machine. Which means, you're going to be flashing people.
Cuteness versus functionality
Surfing swimwear, in my opinion, should be in a separate category than other types of bathing suits, and especially the ones designed for laying poolside or chilling on the beach. I am aware that magazines and movies will try to have us believe that girls can surf in the teensiest of surf bikinis.
Theoretically, that is true: many more advanced girl surfers can (and do) rip in tiny surf bikinis — even in big waves. It is important to remember that advanced surfers are much more efficient than beginners out in the ocean. Hardly ever do you see women competing in those tiny bikinis.
Adrianne's tried and tested changing room test
After a ton of money dropped purchasing "cute" surfing bikinis only to have the reality check once that it definitely does not stay on in the water, I finally have a tactic for figuring out if there's even a possibility that my swimwear will stay on in the "washing machine."
Now, when trying on surf bikinis in the changeroom, I jump up and down on the spot (letting everything jiggle about), flail my arms and legs, and dance around wildly.
I know it sounds crazy, and my fellow patrons probably think I'm nuts if they can hear me or see my feet under the changing room door.
But who cares! I know that if "the goodies" stay put while I'm doing that, they will probably stay put when I am surfing the waves as well.
Check out my Tropical Tidings: Tips for Your Trip to the Tropics episode on this very topic!
Considerations for choosing surf bikinis
Picking your optimal swimwear comes down to two main points:
Your body type
How much skin you want to show
More curves will probably (but not necessarily) mean that you need more fabric to keep everything in, and the opposite is true for fewer curves.
At this juncture, I do want to state an opinion which is that every body is a bathing suit body. Tall, short, heavier, leaner, top-heavy, bottom-heavy, stretch marks, whatever. You are beautiful! So let's focus on finding swimwear that is comfortable and makes you feel good.
Here are some specifics that I have learned after having amassed an embarrassingly large drawer of surfing swimsuits — some that are now worn out because they're so good, and others barely used because they were a pipe dream.
Surf bikini bottoms
I personally like surfing bikini bottoms that fit snugly. Excess fabric often leads to drag once it gets wet.
Drawstrings
I have found that the surf bikini bottoms can actually be as full-coverage or as "teensy-weensy" as you'd like, as long as it is nice and snug, and has a drawstring at the waist which allows you to tighten so the bikini doesn't ride up or slide down.
High waist
Conversely, there is an uptick in the popularity of the very high-waisted surfing bikini bottom if you are looking for full coverage. This is a flattering fit for many, and if tight enough, will mold to your hips — no bikini drawstring required.
Surf tops
It can be difficult to find bikinis that work, especially when you're a newbie and don't know what to expect. Here is a summary of a few qualities to look out for in a bikini, and a few to avoid.
What to look for
Tops that fit similar to a sports bra — either the simple over-the-shoulder, racerback, or criss-cross straps — are awesome. They keep everything locked in and don't move around much which is helpful.
I personally look for bikinis that you can tie on rather than those which have a clasp, as I have small ribs and this allows me to tie it as tight as I like.
What to avoid
If you have neck or upper back problems like me, or if your breasts are bigger than a C cup, try to avoid halter or tie-at-the-neck-style bikini tops. They will exacerbate any neck tension and probably leave you with a sore neck or a bad headache.
Regardless of the style, bikinis with thicker straps are always better, especially if you are in the C cup + range.
If you must go with a halter bikini top, make sure that the triangles don't move on the string that ties around your ribs. Nip slips. Need I say more?
The surfing one piece
There are actually some great one pieces out there, provided they keep everything in (dressing room test!). Look for a one piece that stays securely on your shoulders, which may mean you need to avoid the deep low-back dip.
I used to rock a Speedo swimmer's one piece — not super sexy. In fact, I once had a friend tell me: "Adrianne, it's just so cool that you don't care about what you look like!" I'm still trying to figure out if that was a compliment or an insult.
Either way, you can't go wrong with a one piece.
Long sleeved one pieces
There is a class of one piece that has long sleeves, which acts as a rash guard. These are great, especially for warm and tropical places, as they serve two purposes:
Not moving around around too much
Removing the need for a rash guard and providing sun protection
Fabric considerations
Spandex and nylon are ideal, and thicker is better (nipple rash is indeed a thing). I personally don't like bikinis which are super stretchy as they seem to have less durability.
Stay away from light, primarily white or cream colored bikinis as they,
May become see-through in the water
Get discolored real fast from sand, wax, etc.
I have found a few bikinis that don't have that internal mesh lining in them. One surf suit in particular was reversible so it had the bathing suit fabric on both sides which was amazing because it didn't take in sand (a real and annoying problem).
Bathing suit lining
There is an issue with the mesh lining, especially with bikini tops that have openings for removable padding, which is that the spaces end up filling up with sand. This sand either builds up in the suit or comes out in your shower or washing machine.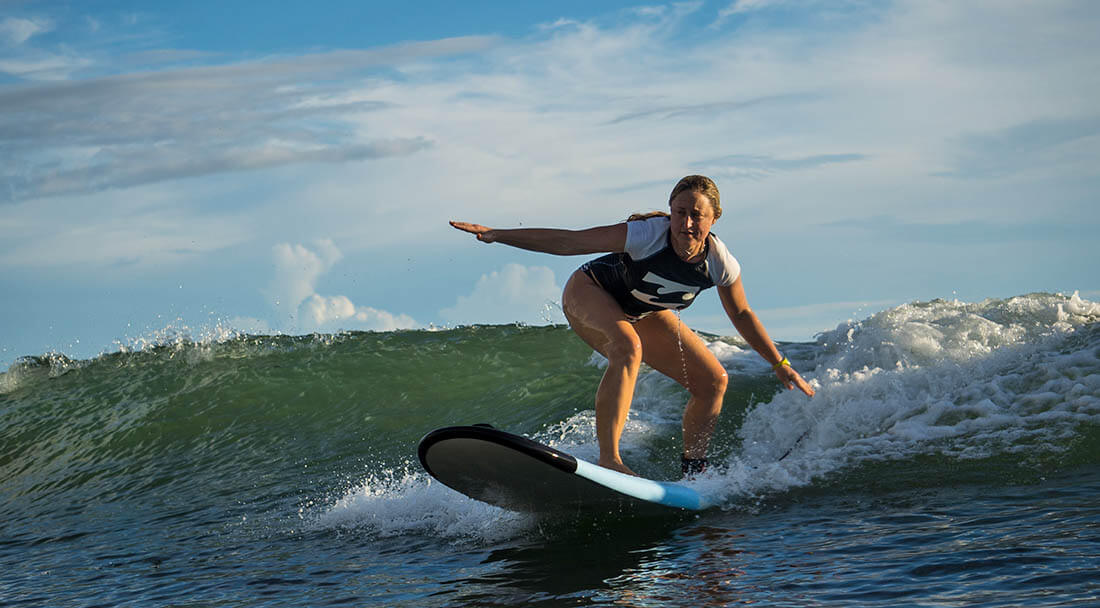 Surf rash guards
Rash guards serve the dual purpose of providing both rash and sun protection — two issues that are indeed very real here in the tropics. Rashes in your underarms can happen when you paddle, and on your stomach when you lay on the board.
Many of our future surfers wonder if they should purchase and bring their own rash guard when packing for Bodhi Surf + Yoga week-long surf and yoga camp.
We provide rash guards for our guests as we actually highly recommend that everyone wear one.
Yet bringing your own is a good idea: it will come in useful for a number of other fun outdoor activities in Costa Rica aside from surfing (kayaking, snorkeling, rappelling, etc.).
For ladies, wearing a rash guard means that all is not lost if your bikini top doesn't work as well as you'd hoped.
Surfing shorts
Personally, I don't like wearing women's boardshorts as I find that they cause rashes on the inner thighs. This is probably due to the salt water and tight fabric rubbing combo.
I have never tried wearing men's style board shorts (they must work, or what else would guys do?). That's an option if you're looking for more coverage.
If you would like to wear shorts, I recommend yoga style shorts made of a high wicking fabric.
Surf pants
Rash guard pants have gained popularity in the last few years with most surf brands now making them. In addition, there are many yoga pants that can serve the dual purpose — perfect for a surf and yoga camp!
If your skin tends to rash or burn easily, you should definitely bring a pair. You don't have to wear them everyday, but you can mix it up.
Brand recommendations
Surfing swimsuits that I love
Surf gear brands that look great
Specifics to look for when shopping for surfing bikinis
There are also some characteristics that you will want to avoid when choosing your surfing swimsuits:
Strapless bikini tops offer no support, and you will spend your entire session having to adjust it. No exaggeration.
Steer clear of swimsuits with metal on them, specially at the front. When laying on your board, it will dig into your body and leave a bruise.
Unless it is absolutely necessary, underwire. When you're laying on the board and paddling, it tends to dig in or poke you, which is just as uncomfortable as it sounds.
Swimsuits with mesh, ruching, crocheted parts, or highly textured fabric. It is likely to become full of wax and sand.
Choosing and caring for your bathing suit
If you find a good swimsuit that works well for surfing, take good care of it! For many of us, bikinis that work well for surfing are hard to come by. I've had some of my best swimsuits for over five years.
Moreover, the most eco friendly action you can take is to take care of swimsuits you already own.
A few tips
When you shop, I would recommend keeping your eyes peeled for quality swimsuits. While it may be more expensive at the moment, it will last you longer and be more environmentally friendly by virtue.
Remember to always rinse your swimsuit thoroughly after taking it into the ocean. Not only will it start to smell after a few days if you don't, but the salt water will slowly damage it.
If you're in the tropics, avoid hanging your bikinis directly in the sun as they will fade and disintegrate quickly.
When in doubt, hand wash your bikinis with mild soap. Never, under any circumstances, put them in the dryer!
Bonus section for men: How to select the best surf shorts
Not an expert myself, I turn to my work colleagues and avid surfers, Travis and Spencer to tell me what they look for when shopping for shorts to catch 'dem waves with.
The optimal fit for surf trunks
Both of the dudes said that you don't want anything that is too baggy. Also, the prime length is above the knee. The longer and baggier the shorts are, the more drag and heaviness when you're paddling.
The women's perspective (from myself) is that the above-the-knee short is most stylish and "cute", though the guys seem to recoil from that word.
Waistband characteristics
You want shorts that can tie snugly on your waist so they don't slide off. Velcro plus a string to tighten is the best scenario, you want to avoid a zipper for reasons that I won't even attempt to explain.
Pockets or no pockets
The consensus here is that surf shorts should not have side pockets, either at the hips or on the legs, as they are prone to filling with water. It is nice to have a pocket (for surf wax, of course). So one butt pocket is the best case scenario.
Surf trunk brands Travis and Spencer recommend
Time to take your new bathing suit on vacation!
Looking for a place to learn to surf or perfect your surfing skills? Look no further. Bodhi Surf + Yoga is THE place to disconnect and unwind, learn some skills, make new connections, and awaken your purpose. Oh, and have lots of fun in the sun.
Check out our weekly surf and yoga camps and learn more about why people choose Bodhi.
If you're already coming down for one of our vacations, we encourage you to peruse the packing list. You can also check out our ultimate guides to preparing for these experiences: