There is one set of questions that we get asked time and again by prospective guests who want to get their surf and yoga on here with us at Bodhi Surf + Yoga in Bahia Ballena – Uvita, Osa, Costa Rica. What is the best time of year to visit? What is the rainy season like? How hot is the dry season? What should I expect with regards to weather in Bahia Ballena -Uvita in [insert your desired month of travel here]?
To make a long story short, there are pros and cons to visiting at any time of year. There are stretches of the year where it's very hot and dry. There are others where it could be rainy. Ultimately, there is only one month that we do not recommend visiting, which is October. Not necessarily because the weather will be bad (sometimes it's absolutely lovely), but because the reputation is that it's so rainy that now very few tourists come here during that season. So now, many businesses (including Bodhi Surf + Yoga) take advantage of that natural break to close for maintenance.
It's impossible to say with 100% certainty what the weather will be doing during any given month — we are in the tropics, after all, and living in an increasingly volatile time, due to climate change. However, in the following blog, we do our best to summarize the weather in Bahia Ballena – Uvita by month based on trends in the past decade or so. We hope it helps you decide when to come and visit us!
High season in Bahia Ballena – Uvita
November
Bodhi Surf + Yoga opens annually in early November, after a month-long break where we do some maintenance on our lodge, and take some much needed rest. At this time, we are beginning to come out of the rainy season, which means the jungle is alive — as green and lush as it gets. We love November's sunny days and rainy afternoons, as well as the cooler temperatures (22-27°C or 70-80°F) nights.
In terms of tourism, it's traditionally not a very busy month. There are a few more tourists in the area at the end of the month for American Thanksgiving. For the last few years, we have held the Be DAREful Retreat in early November, a women's retreat hosted by True North Adventures which invites women to step outside of their comfort zone to play, grow, and explore!
December
In December is when we start to experience the "change of seasons" — from green season to dry season. There are typically a handful of rainy afternoons or evenings, but mostly sunny and clear. It's still not "wicked hot" during the day (maybe 25-30°C or 77-86°F) and it cools off a good few degrees more than that during the nights.
The first part of December is usually still quite quiet in terms of tourism. Yet after December 15th, the high season in Costa Rica is officially underway. Not only do the coastal zones of the country see many international tourists, but also Costa Ricans who escape the cities for the holiday season. One of two whale seasons traditionally starts in December (Pacific Humpback Whales). As for Bodhi Surf + Yoga, we typically book out the last two or three weeks of December up to four months in advance so it's best to book very early for those dates! December is one of our favorite months in Bahia Ballena. The sunsets over the ocean at this time of year are out of this world!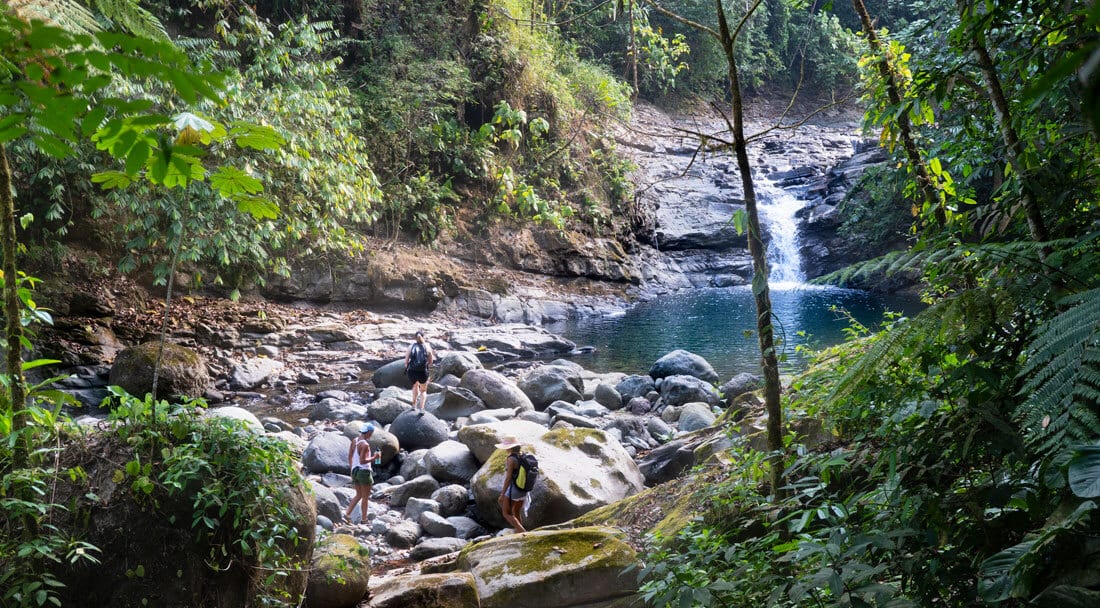 January
January is the month where we really start to feel the dry season. During the day time, temperatures can reach up to 32°C or 90°F, though may feel even hotter than that due to lingering humidity in the ground from the rainy season. There is very little chance of rain, which means lots and lots of sunny days.
Once the holidays are over and winter really sets its teeth in, visiting Bahia Ballena – Uvita, Osa, Costa Rica is the perfect way to escape those freezing temperatures of the Northern Hemisphere. It's also a great way to kick off the New Year, though be warned, it is a busy time. It's best to book early if you can. At Bodhi Surf + Yoga, we traditionally end up booking out in January (though it never feels that crowded here as we have a maximum capacity of just ten guests)!
February
In Bahia Ballena – Uvita, February is one of the peak months of the hot, dry, and busy season. Days are cloudless and very hot indeed. Evenings and nights are warm, with temperatures hovering around 27°C or 80°F. At this time, it's probably been months with very little rain, which makes it a great time for snorkeling due to the increased visibility in the water. The ocean is beautiful, sunsets are always amazing, and opportunities for tanning abound.
In terms of tourism, February is a busy month in the Bahia Ballena – Uvita area. There is a music and art festival called Envision which is held annually just north of Uvita. It brings in several thousand people, many of whom stay in the region for a while. Overall, it's a heavily touristed time for those coming from the Northern Hemisphere to visit, due to the desire to escape the worst part of winter.
March
March is still very hot in the Bahia Ballena – Uvita area. It wouldn't be out of character for temperatures to reach as high as 35°C or 95°F. At this point in the year, even the ocean feels hot! If you can withstand the heat, you will be rewarded with beautiful, sunny conditions, sultry evenings, and wonderful sunsets.
This month sees many tourists as well, in particular families who are taking advantage of spring break to travel with their children. March is a good month to visit, though — visitors from the Northern Hemisphere can get a jumpstart on that tan and hopefully take the warm weather back to their homes with them when they return. Whale watching season typically comes to a close sometime during this month.
April
In April, the weather finally starts to cool down and there are typically a few light showers here and there. Temperatures at this time of year go back down to highs of about 32°C or 90°F. It makes for a nice respite after many months of heat and dryness. By the beginning of April, the jungle foliage is indeed starting to look quite crispy!
It also officially marks the end of the high season, typically after the Semana Santa festivities. Note that Semana Santa (or holy week, aka Easter) is a big deal in Costa Rica as it is an important Roman Catholic holiday. There is a great deal of national tourism to the beach regions of the country during this celebration. Otherwise, we would say that April is a fairly mellow time of year, and a good option for visiting.
Green season in Bahia Ballena – Uvita
May
May is more of the same as April, some showers (nothing too major), still nice and warm weather with highs averaging around 30°C or 86°F. The jungle slowly starts coming back to life! It's also mango season in the area, which is always fun (mangoes fall off the trees at the Bodhi Surf + Yoga what feels like every 15 minutes like clockwork)!
In terms of tourism, May is definitely not considered a busy month as it's kind of "between seasons" — both in Costa Rica, as well as the Northern Hemisphere. The beach in Bahia Ballena is vast, and in a month with slower tourism (like May), it can feel like you're the only on it! We recommend visiting in May if you are looking for a time with fewer tourists!
June
June is a lovely time to visit Bahia Ballena – Uvita, especially for families who have children on summer break. Our area is never cold (June sees temperatures averaging in the high 20s (°C) or low 80's (°F). Afternoon showers help keep it cool, and also help the rainforest for which the area is so famous lush and green.
In June, Costa Rica sees quite a few visiting student groups and families — almost a mini "high season". Yet overall, it is much less busy than in the official high season. It is such an amazing country to visit, and it is nice to see it when it's got it's full range of weather — some sun, some rain, beautiful vibrant rainforests, and full rivers. We fully recommend it!
July
Continuing from June, this month is also a wonderful time for families to visit (much more manageable temperatures than in the high/dry season make outdoor, physical activity more enjoyable). It's also a time of year where life abounds, due to that beautiful and life-bringing water that falls periodically form the sky! Temperatures in July are similar to the month before — averaging in the high 20s (°C) or low 80's (°F)
There are plenty of activities to participate in July: whitewater rafting, surfing, jungle adventures, etc. The second whale season typically starts in this season (Humpback whales which travel north from the Southern Hemisphere), so that's a big draw to the area as well!
August
August is another lovely month to visit. Sure, there are rain showers (typically in the afternoons or at night). Yet it makes being here (in a hot, tropical country), feel much more sustainable. The fact is that rain in the rainforest or at the beach feels much different than rain in a city setting. It's actually quite fun to lose your inhibitions and just get wet!
This month is a great time for families to visit, taking advantage of that last bit of summer holidays to travel all together. At this point, the jungle is back and alive in full force. Yet there is still so much sun. Just fewer tourists, making this time of year very recommendable by us here at Bodhi Surf + Yoga!
September
For the past several years, September has had some of the nicest weather of the whole year (per us here at Bodhi Surf + Yoga!). Whale season is in full force (and our community of Bahia Ballena actually hosts an annual whale festival which draws some national tourism). There are rains, yes, but in the past several years at least, it hasn't been too outrageous. Just enough to keep the temperature manageable (in the mid-to-high 20's °C or low-to-mid 80's °F).
In August and September, this area sees more European travelers, yet it's a traditionally much less busy month. Overall, due to the lower tourism and multitude of activities to participate in, we do recommend this month for visitors!
October
This is the heaviest month of rains. We at Bodhi Surf + Yoga close down, as do many other businesses in the area. For this reason, we recommend waiting until November!
We hope this guide has been helpful for you to decide which month you would like to come down and visit us here in the Bahia Ballena – Uvita area! Each time of year has its pros and cons. Yet overall, we can recommend that there is something for everyone in any month between November and September! We hope to see you down here.