It's no secret people travel to Costa Rica for the pristine beaches, the amazing wildlife, and the lush jungles. However, Costa Rican food doesn't get nearly the amount of recognition it deserves. Costa Rican food is the fuel behind all those adventures and the flavor of the place that is on so many peoples bucket lists. While Costa Rican recipes are considered fairly simple, to get them right takes patience and practice. The perfect gallo pinto (which on the surface is just a plate of rice and beans) is a difficult thing to achieve!
This introduction to Costa Rican recipes should be a guide, allowing you to experiment and explore different flavor combinations and techniques to put together the perfect plate. While there are many dishes that make up Costa Rican cuisine, we've put together a few of the classics that can be found in every Tico kitchen.
We encourage you to use this guide as a jumping off point for your own adventure into Costa Rican food and, if you're interested in more, we've got a whole cookbook filled with 50+ fresh, tropical recipes that we serve here at Bodhi Surf + Yoga including many traditional Costa Rican recipes as well as recipes from all over the world!
Costa Rican food culture
If you are lucky enough to find yourself in a Costa Rican kitchen, you better come with an empty stomach. Like many Latin American cultures, one of the universal displays of love and affection in Costa Rica is a big meal. In fact, many of the traditional Costa Rican recipes are really a collection of several different recipes all put together on one big plate.
Take the casado, for instance, this is a dish found in nearly every local restaurant and it consists of perfectly cooked white rice, flavorful beans, a protein (usually chicken or fish), a fresh salad, tortillas, and fried plantains. So really, it's several Costa Rican recipes all wrapped into the delicious and filling casado. That is the Costa Rican way — full plates and full bellies.
So, what does Costa Rican food actually consist of?
With a strong base in classic Latin American staples, Costa Rican cuisine puts its own spin on things. Rice and beans play a big role in many Costa Rican dishes. In many cases they are actually the main focus, while proteins and salads take a supporting role. In terms of meat, Costa Rican food mostly sticks to chicken and pork (the beef in this country is not super high quality, it would seem). Although, at Bodhi Surf + Yoga we keep our meals mostly plant-based anyways, in order to cut down on our carbon footprint.
Fresh seafood is readily available along Costa Rica's both coastlines. Ceviche is another classic example — raw fish or shellfish cooked lightly in lime juice and seasoned with cilantro, onion, and red pepper. Fresh fruits and vegetables are eaten all year around — including all the tropical favorites like papaya, mango, pineapple, and bananas. And of course, coffee plays a key part in Costa Rican cuisine. Due to its mountainous terrain and tropical climate, Costa Rica is known for growing top-quality coffee and exporting it all over the world.
So yes, Costa Rican food may be simple. But even simple dishes well prepared, using the best ingredients and tried-and-true recipes, leave everyone impressed!
A few Costa Rican recipes for you to try
To begin your foray into Costa Rican recipes, let's start with the first meal of the day — breakfast! At Bodhi Surf + Yoga breakfast is a sacred affair. Whether it is a dawn-patrol surf session or an early morning yoga class, breakfast is the satisfying (and oh-so-welcome) reward at the end of all that hard work. One of the favorite breakfasts served here is the famous Costa Rican gallo pinto.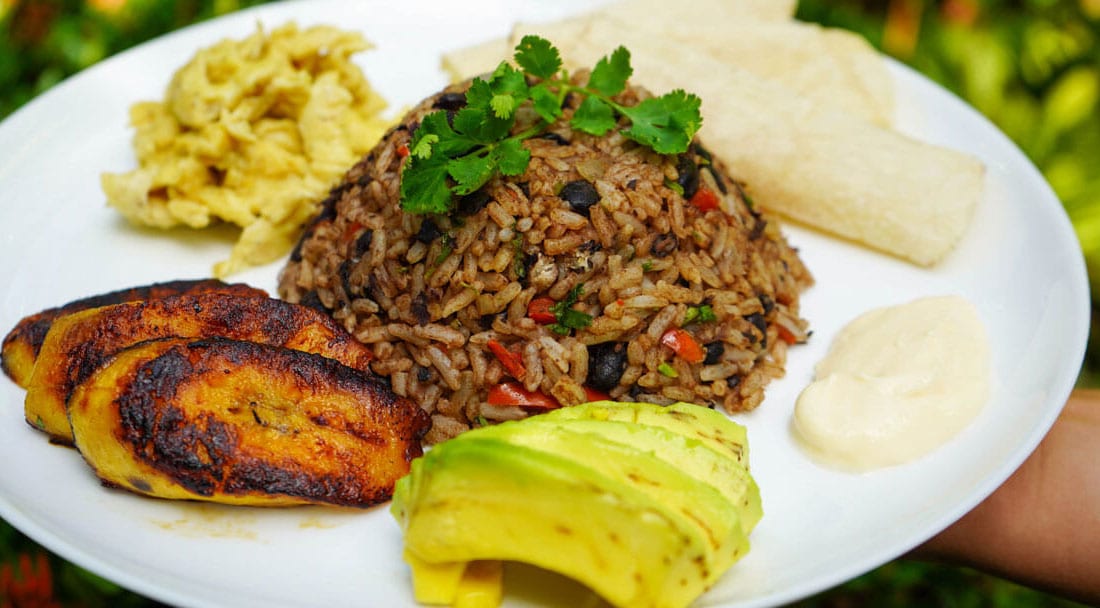 Gallo Pinto
Gallo pinto is one of those dishes that you just don't quite understand until you've had it. But it is one of the best traditional Costa Rican foods you can try during your travels. Made with day-old rice and black beans, this traditional breakfast dish is filling, tasty, and incredibly satisfying. Our Bodhi Surf + Yoga cook, Fanny, makes some of the best gallo pinto around.
Fanny's Gallo Pinto (serves 6-8 people)
Ingredients
3 cups day-old, cooked white rice
3-4 cups black beans, cooked (1 cup liquid reserved)
1 medium onion, finely chopped
1 sweet pepper, finely chopped
1 cup chopped cilantro, loosely packed
1 tablespoon complete seasoning
2-3 tablespoons Salsa Lizano
1 tablespoon olive oil
Process
In a large pan or skillet on medium-high heat, sauté the onion and pepper with olive oil until cooked.
Add the beans, complete seasoning, and Salsa Lizano. Cook until beans are warmed through and flavorful.
Add the rice and mix everything together. Fry the gallo pinto until all of the flavors are incorporated, about 5 minutes.
Turn off the heat, add the cilantro.
Serve with scrambled eggs, plátanos maduros, fresh fruit, and enjoy!
Plantains
Alongside many Costa Rican dishes are plantains (in one form or another!). Plantains are in the same family as the banana, but don't get these two confused! Plantains are starchy, they have a much thicker skin, and they need to be cooked before being consumed. Plantains are both versatile and delicious, and once you know how to prepare plantains, they could easily become a staple in your kitchen. Two of the more traditional Costa Rican recipes are patacones and plátanos maduros.
Patacones are made with unripe, green plantains and are often served as an appetizer in restaurants. In other parts of Latin America they are sometimes called tostones. They are twice fried, smushed into disks, and served with refried black beans, chimichurri (also known as salsa fresca or pico de gallo), and queso.
Patacones Recipe (serves 6-8 people)
Ingredients
4 unripe, green plantains
1/2 liter vegetable oil
Salt, to taste
Process
To prepare the plantains: cut in half width-wise then make a small slice down the side just deep enough to cut through the peel. Remove peel. Cut the plantain into 1 inch (3 cm) rounds.
Heat the oil in a large pot or pan and (carefully) fry for 2-3 minutes on each side.
Allow the plantains to briefly cool and dry on a plate with paper towel.
Now, mash the plantains using a plate. Smush until a ½ cm thick.
Fry once again until crunchy, 1 minute on each side.
Sprinkle with salt and serve with toppings.
Plátanos maduros, on the other hand, are made with overripe plantains. This is a classic side dish to gallo pinto in the morning or casados in the evening. With just a few simple ingredients, plátanos maduros are made regularly in nearly every Tico kitchen. They are easy to make and sure to please!
Plátanos maduros (serves 6-8)
Ingredients
4 overripe plantains
Coconut or vegetable oil
Salt, to taste
Process
To prepare the plantains: Remove peel. Cut the plantain into 1 inch (3 cm) rounds on the diagonal.
Coat a large pot or pan with oil and bring heat to medium-high.
Fry plantains for 2-3 minutes on each side or until browned.
Allow the plantains to briefly cool and dry on a plate with paper towel.
Sprinkle with salt and serve warm.
Casados
If you want to get to know one of the most traditional Costa Rican recipes, look no further than the casado. Casados are the classic plate that combines rice, beans, protein (usually chicken or fish), salad, picadillo, plátanos maduros, and tortillas.
The direct translation of "casado" to English is "married" — and, of course, there are quite a few stories surrounding how this classic dish got its name. For example, when fieldworkers would bring their lunches they would need meals that were filling and satisfying for the whole day. The men would each bring their own lunches and those that were married typically had the works — rice, beans, chicken, salad — and those who weren't would always say they wanted the "casado" lunch.
So while casados are more of a plate than a recipe, here are the pieces that make up a complete casado:
Rice
Beans
Protein (chicken, fisa, or barbudos (string bean fritters))
Salad (green, tropical, or Tico)
Picadillo (papaya or palmito)
Plátanos maduros
Corn tortillas
The Bodhi Cookbook
If you are like us, and just a taste of Costa Rican food isn't quite enough, we've got a whole cookbook filled with our favorite Costa Rican and international recipes! These are the best-of-the-best recipes that we've been serving at Bodhi Surf + Yoga for the 10+ years we have been in business. Everything from green plantain ceviche to picadillos to micheladas is in The Bodhi Cookbook — including a homemade Salsa Lizano recipe for your gallo pinto, if you can't find it in your local grocery store! There are 50+ recipes for breakfast, surf snacks and sides, dinner, dessert, and drinks.
Each download of The Bodhi Cookbook is by-donation (suggested donation of $20) — so whatever you are willing to contribute is greatly appreciated. It is available to download here. We hope you enjoy, happy cooking, and buen provecho!