Beginner surf retreat in Costa Rica
July 9-16, 2022
Price per person: USD$1795 / USD$1995
Surf levels: Beginner
This retreat includes
6 nights at Bodhi Lodge
1 night at a hotel in San Jose
7 surf lessons (2 hours each)
2 bodysurf lessons (2 hours each)
1 free day or 1 extra surf lesson
Waterfall visit
Round trip transportation (SJ – Uvita – SJ)
Daily breakfast (except on Wednesday)
3 group dinners
Snacks at surf lessons
Guided walking tour of Bahia Ballena
National Park entrance fees
$20 donation to the local SOMOS Community Foundation
Hosted by Bodhi Surf + Yoga
Bodhi Surf + Yoga is excited to be hosting a surf-only retreat July 9-16, 2022!
Whether you are just getting started surfing in the white water, learning to stand up and turn, or are just looking to get your feet wet for the first time, the 2022 Smile While you Paddle surf-only retreat is for you. This retreat has been created using our wealth of resources and experiences that we have compiled in our decade plus of being an award-winning surf and yoga camp.
Does this sound like you?
You are just starting to play in white water waves, but aren't comfortable going beyond chest-deep water. As for catching white water waves, it's a struggle. You don't really understand how to read the ocean or to select and catch waves on your own. You haven't yet mastered stalling and accelerating the surfboard or turning it intentionally. Both your functional surf stance and paddle technique need refinement. What you may lack in experience you make up for in attitude.
Don't worry, we've got you covered!
While this is not the first surf retreat we've had in our 12+ year history, it is the first one we have offered since 2020! We are stoked: the itinerary and flow of this retreat are the "best of" our cumulative decades of experience offering world-class surf instruction.
You will learn surf theory and put it into practice at the best "classroom" your mind could conjure up:
Under the shade of the palm trees in the pristine Marino Ballena National Park
In the clean, warm, and beautiful waters of the Costa Rican Southern Pacific
Playa Chaman — where we conduct our surf lessons — is truly one of the best beaches in Costa Rica for learning how to surf.
Your surf retreat leaders
Your surf instructors for the Smile While you Paddle Surf Retreat are two of Bodhi Surf + Yoga's beloved team members:
Spencer Dunlap: Head surf instructor
A long-time Bodhi Surf + Yoga staff member, Spencer is an avid surfer and bodysurfer, an International Surf Association (ISA) Certified surf instructor, a San Diego lifeguard, and former Division I college athlete.
Spencer is passionate about the ocean, wave-sliding of all types, and sharing the stoke via his job as a surf instructor to help create independent and responsible surfers.
What makes Spencer an excellent surf coach?
His ostensible passion for surfing, his attention to detail and the needs of his students, his ability to articulate complex surf talk. He has a genuine desire to help you achieve your surfing goals, and will meet you where you are in your learn to surf journey.
smooth operators

the surfing (and surf instruction) were why i personally came to bodhi and it did not disappoint. walking onto that beautiful, empty beach the first time was incredible, it felt like a secret, special place. the instruction was the best i ever had! spencer's attention to detail and emphasis on the fundamentals really paid off. starting with body surfing is really pretty brilliant, i've taken a few surf lessons before and everyone usually starts with the pop up, which is fine i guess, but what usually happens to me is that i can never figure out what waves to catch or when to commit to them. by body surfing first, i was able to literally feel it, and by the time i was standing up, i had a much better understanding of how.

Read more on TripAdvisor
Carly Stoenner: Head surf instructor
Carly is a passionate, avid, lifelong surfer. She has worked as a surf instructor for the UCLA Youth Programs & Marina Aquatic Center and Rustic Pathways. She embodies the Bodhi Surf + Yoga ethos of spending time in and falling in love with the great outdoors, and applying that passion to other places of life.
Carly is a multi-talented teacher who brings the best possible energy and vibes to the various subjects that she instructs. Fun fact: she is also an English teacher for Bodhi Surf + Yoga's Spanish-speaking staff, a NOLS-trained outdoor educator and guide, and a former Peace Corps volunteer in Nicaragua.
What makes Carly such an amazing surf coach?
She has a very one-of-a-kind way of engaging her surf students, explaining the intricacies of it while also making it incredibly fun. She is genuinely stoked to share her passion for this pursuit with all of the students that she teaches.
What to expect on the Smile While you Paddle Surf Retreat?
Who is this learn-to-surf retreat for?
This retreat is designed for beginners, and would be ideal for you if you identify with any of the following:
None, or nominal surf experience? No problem. As long as you are open to learning and have a genuine desire in this exciting activity / lifestyle, no prior experience is required!
Wanting to learn as much as you can in a short amount of time? This retreat is very immersive, which is the perfect way to jumpstart your surf development in just a week.
Enjoy challenging yourself physically? Perhaps this go-around you'd like to have a fast-paced, active, and learning-focused vacation. Don't worry; there is rest time too!
Looking to leave with skills that you can take forward with you in your life? with and apply elsewhere
Love the outdoors? Well, good, because you're going to be spending lots of time in the warm, delightful waters of the Pacific Ocean!
What will this retreat provide you with?
You can expect to come out of the Smile While you Paddle Surf Retreat having experienced or acquired the following:
Deep dives: Opportunities for deeper discussion about the Mother Ocean, surfing, ocean safety and environmentalism.
Agility: A series of stretches, movements and exercises to get loose and limber, as well as build strength for your next surf session.
Mastery: A review of surf equipment, correct positioning in prone, crouch and standing positions, as well as proper paddling technique, turning, wave selection and basic wave knowledge.
Your Costa Rica surf retreat
Your home base for the week will be the Bodhi Surf + Yoga Lodge in Bahia Ballena, Osa, Costa Rica. It is a small lodge that can only host up to ten guests at a time, so you know that attention will be personalized.
We have a pool, hammocks and day beds for lounging, an extensive library, and plenty of games for your downtime between surf sessions. Here, comfort, relaxation, and simple pleasures reign supreme.
The Bodhi Surf + Yoga Lodge
Bungalow Gratitud
Price: USD$1995 / person (minimum of two people)
The largest of the four options, it has a queen bed, two singles (which can be moved together to form a king), and a daybed. This bungalow can accommodate up to four adults. It has a private bathroom and well-equipped kitchenette, and is the best choice for a group of friends or two couples.
Bungalow Espiritu
Price: USD$1995 / person
A smaller version of Bungalow Gratitud, this bungalow has one queen bed and a kitchenette for preparing basic meals, a large private bathroom, and a spacious balcony. It is the perfect choice for a couple or two friends who don't mind sharing a bed.
Room Armonia
Price: USD$1795 / person
This is a private, hotel-style room with a full size bed (which can accommodate one or two people), a private bathroom, and is located on the second level of a two-story structure. It is the best choice for a single traveler or a couple.
Room Amistad
Price: USD$1795 / person
This is a private room with two single beds that can accommodate either one or two guests, a private bathroom, and is located on the second level of a two-story structure. It is the best option for friends who are traveling together.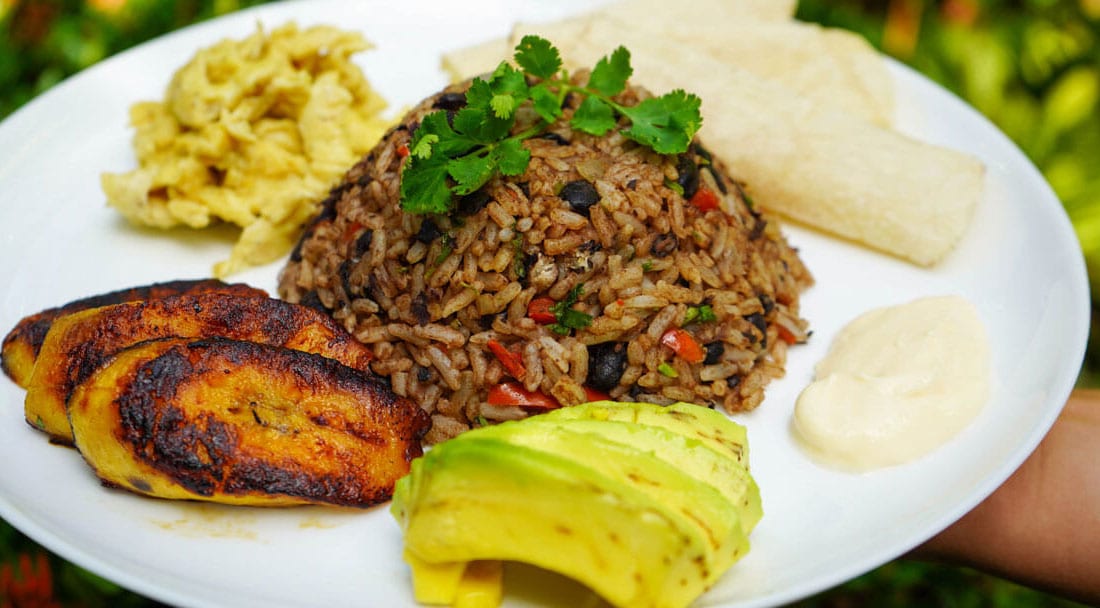 Surf retreat meals
One of the crowd favorites for guests of Bodhi Surf + Yoga is the food! We are proud to serve homemade, locally-sourced, healthy, and delicious food and drinks.
Your retreat will include one dinner out, two dinners in, and daily breakfasts minus the day off for a total of eight meals. For the rest, you can either prepare food at the lodge (if you are staying in Bungalows Gratitud or Espiritu) or eat at one of the many delicious restaurants in the area.
Your Bodhi Surf + Yoga hosts
Adrianne Chandra Huff
Bodhi Surf + Yoga co-founder and owner, Adrianne will be the Smile While you Paddle Surf Retreat's hostess and head chef. Adrianne is a passionate surfer and more notably, someone who loves to feed others and ensure that they are having a good time.
Adrianne will be serving up some tried and true Bodhi Cookbook faves and also taking the opportunity to bring some new nourishing and tasty recipes to promote energy and stamina for the surf crew.
And hey — she'll probably also get out and surf a time or two with the surf students!
On-site staff
The entire Bodhi Surf + Yoga staff are veterans at making people feel comfortable, taken care of, and at home! They are here, and happy, to help.
Where your retreat takes place
Bodhi Surf + Yoga is located in Bahia Ballena – Uvita, Osa, Costa Rica. It is a small and quaint coastal community that has so much to offer. Read more about this special place here.
Smile While you Paddle: Surf Retreat daily schedule
Note that this is a sample schedule, as exact times of activities are subject to change. The surfing component of our schedule requires us to change it weekly around the tides and wave conditions.
The following breakdown is to give you an idea of what to expect:
Saturday (Day 1)
Guests are asked to arrive on the first day (Saturday) before 2pm at the San Jose, Juan Santamaria International Airport (SJO) in San Jose, Costa Rica. After everyone clears immigration and customs (which can average anywhere from 20 minutes to two hours depending on the time of year), you convene at the meeting spot outside the airport, Deli "La Malinche" by 3pm if all goes accordingly.
You can grab a bite to eat at the deli prior to making the approximately four hour trip to Bodhi Surf + Yoga in our private shuttle. Upon arrival at the Bodhi Lodge, the staff will welcome you and check you into your room or bungalow. Guests and staff will go out to a local restaurant to enjoy the first group dinner together, go over expectations and goals for the week. After that, it's early to bed to get up early and be ready for the first full day of camp.
Sunday (Day 2)
Sundays start with an early breakfast of locally sourced fresh fruit, coffee or tea, and a delicious main course. To beat the heat, we start with the community walking tour first thing after breakfast. This activity is a great way for guests to learn the ins and outs of the local community and get a "lay of the land" from a trained local guide. Expect to see some of the local flora (and maybe even fauna), and maybe even finish with a local snack or drink!
After returning to home base, there is a little break before the first surf theory class. Next up, take a stroll to the local supermarket to stock up on snacks and meal stuff or go out for lunch at a nearby restaurant.
In the afternoon, the whole crew will head down to the beach for the day's second surf session. Sunday night is unscheduled so everyone is welcome to do their own thing.
Head to a local restaurant or make something simple to eat before relaxing in the hammock or playing some games before an early bed.
Monday (Day 3)
By Monday morning, guests have an idea of the rhythms and flow of Bodhi Surf + Yoga, Bahia Ballena, and life in general in a quaint coastal Costa Rican community.
After a morning surf theory class you will be physically and mentally charged to get out there and practice, practice, practice! Next up: a leisurely, healthy, and filling breakfast at the Bodhi Lodge and some surf talk.
In the later morning, guests will get a break from the salt water by heading to a local waterfall to cool down from the mid-morning heat. When you return to the lodge after this refreshing outing, there is a period of chill time prior to the second surf session of the day.
Monday night is group dinner number two at Bodhi Surf + Yoga, an experience that consists of delicious local fare and many moments of laughter. Bodhi Surf + Yoga team members may prompt reflections of the day or a "High, Low, Ha!"! You may even watch a surf flick or two!
Tuesday (Day 4)
By Tuesday, you are going to be so into the way of life in the tropics that you rise, bright and early, with the sun. You know the drill by now: an early morning surf class (number five) is up next followed by a visit to the common area to enjoy some local coffee or fruit juice, a delicious home-cooked breakfast, and conversation with fellow guests and staff.
After breakfast, everyone will head out for the sixth surf lesson of the week.
After learning and doing some shredding of your own, you will return to the lodge for some chill time in the pool or hammocks. There will be an extra activity for those who are interested such as a visit to a shaping bay, surf shop, or another beach to watch the more advanced surfers shredding!
Tuesday is a free night, so guests most often go out for a meal together at one of the delicious nearby restaurants.
Wednesday (Day 5)
Wednesday is the full free day, and we encourage you to make the most of it! There will be an optional surf class if you are feeling stoked and energetic enough to participate. If not, there are many other activities to participate in, and sights to see. For example, you can visit the local Farmer's Market, go to a nearby café, walk the Whale Tail, or just chill at the Bodhi Lodge.
If you opt for the latter, you can hang in the hammocks, by the pool, or on the day beds. Depending on your energy and ambition level, you can also do one of the many half or full-day tours of the area: a boat tour (whale watching, snorkeling, or to a famous nearby national park), canyoning, ziplining, or horseback riding.
Thursday (Day 6)
On Thursday, we are back at it with a delicious and nutritious breakfast followed by a morning surf theory lesson. Guests may opt to spend more time at the beach, enjoying the views or reading a book from a comfy position on the sand.
To end the day, there is an evening glass surf session in which you can surf as the sun goes down on yet another wonderful day.
On this last evening together we share an epic meal, reflect on some of the experiences we have had both together and apart, and maybe even play a game or watch some surf movies.
Friday (Day 7)
On Friday morning, it's not unlikely to have a "dawn patrol" sunrise surf class where the aim is that everything comes together in a "flow state" and you really start to understand "Smile While you Paddle". Following that session, a light and delicious breakfast along with a hefty cup of coffee is in order.
In the final surf class of the week, some of the threads of the week are woven together (Belonging, Mastery, Independence, Gratitude), and you have an intentional "Gratitude to Mother Ocean" with your fellow surf camp buddies.
After packing, pool time, and lunch, guests and staff share one last activity together: the thoughtful and reflection-filled Bodhi Gratitude Circle. It's a wonderful way to end the week, and the synergy created here is epic!
Finally, at 3:30pm, you are picked up at the Bodhi Lodge for your shuttle transfer to your hotel in San Jose where you will be spending your last night. A farewell, but not a goodbye. After all, you can always come see us again. We hope you do.
Saturday (Day 8)
On this day, guests typically fly out of San Jose back home.
A bit more about Bodhi Surf + Yoga
Bodhi Surf + Yoga was founded in 2010, and our vacation offerings are designed to facilitate connection: to self, to nature, to community, and to purpose.
In our 12+ years of being operational, here are a few of the accolades that we are most proud of:
We have been awarded with TripAdvisor's Travelers' Choice Award multiple years running, and have over 550 five-star reviews
We're a certified B Corporation, and a recipient of their "Best for the World" honor in 2018, 2019, and 2021
We have been a proud 1% for the Planet member since 2018
We're a Transformational Tourism Council partner and a proud Platinum Sponsor of the Center for Responsible Travel